Prizes for our employees
---
We consider important the recognition of outstanding performances and the remuneration of our colleagues committed to quality and conscientious work, therefore, we have established the Project of the Year Prize. The company classifies the construction projects on the basis of many aspects in order to announce the winner at the end. Deadlines, quality, customer satisfaction, compliance with the company's standards and – as a matter of course – profitability are also important indices in the judgement. The Project of the Year Prize will be announced in front of the full plenum of the organization on the meeting of the company at the beginning of the year. All the staff members having participated in the implementation of the winning project get the prize.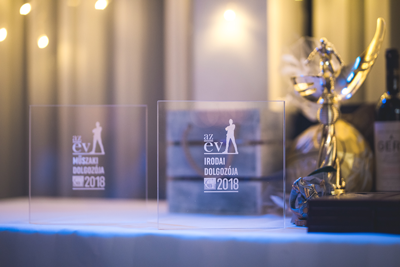 In 2018 the Technical Worker of the Year Award was won by István Dömők road and utility construction manager.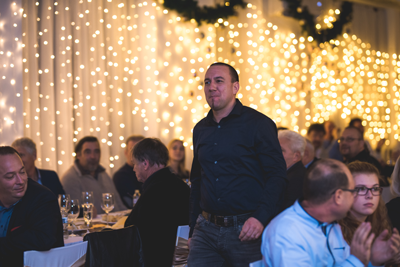 In 2018 the Office Worker of the Year Award was won by Zsolt Tóth Csantavéri business development manager.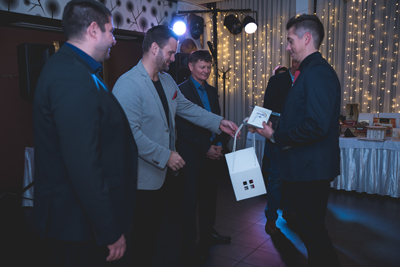 Special awards were given for outstanding performance to:
Szilárd Fehérvári, Zsóka Gombár, Csongor Márton, Csilla Rózsa-Fodor, Anita Horváth, and Henriett Anita Kótai

Congratulations!
In 2017 the following colleagues received recognition:
Project of the Year Award 2017 (team award) winner:

Tesco Supermarket Eger

The project staff from left to right:
Péter Kertész work site engineer
József Barabás project manager
János Köhler foreman
Csaba Kerner specialist regional director
Gábor Grabarics company manager
Besides the staff implementing the projects many colleagues work in other areas, perform background activities, without whom a project team and our company as a whole could not be successful, either. For this reason, in 2016 we announced the Performance of the Year Prize with 3 podium positions. An important criterion is in awarding the prize that the rewarded staff member provides outstanding performance in relation to his colleagues in similar positions. Staff members displaying outstanding loyalty and commitment are also rewarded.
Last winners of the performance of the year prize:
Performance of the Year Award 2017 winners (from right to left):
I. Szabolcs László
II. Anett Török
III. Péter Varjas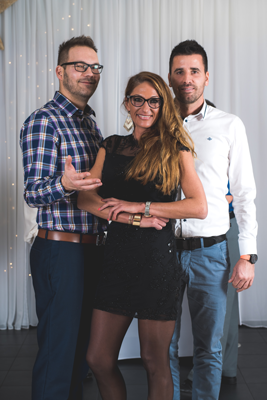 Project of the Year Award 2016 – winner of the team award:

Aldi Food Store Kecskemét
András Dávid project manager
Tamás Bogárdi foreman
Géza Heidfogel building technology manager

 

Performance of the Year Award 2016 – individual winners:

1st place:
Csaba Kertai regional director

2nd place:
Zsóka Gombár head of organization and product quality assurance

3rd place:
István  Varga contract preparation engineer

 

Project of the Year 2015 - winner:

Csolnoky Ferenc Hospital Oncology Center of Central Transdanubia